Although this post is very delayed, I have to talk about the place that inspired Beer with Kids, The Hunter-Gatherer Brewery Hangar.
Several weeks ago, we trekked down to Columbia, South Carolina to get a puppy. Why exactly did I feel that having a 3 year old, a 1 year old and a 4 year old Pit Bull was not enough life chaos?? I HAVE NO IDEA. We're nuts. Regardless, we all packed up and made the trip down for an overnight stay.
After hitting up the adorable children's museum, we really wanted to go somewhere where we could all eat, the kids would be welcome and Mom and Dad could have a recovery drink. So, we started our usual method of searching through review sites to find places that could be good possibilities. This is always a long tedious process that often requires driving by several places until we find the right fit.
We found the HG Hangar and WOW. (Believe it or not, Yelp says this place is not kid friendly…I can't figure that out.)
This Brewery is actually in a giant old refurbished airplane hangar. It seemed to me to be somewhat in the middle of nowhere, but I am not from the area so I could be totally wrong. We actually thought the GPS was taking us to the wrong place, then BAM, there it was.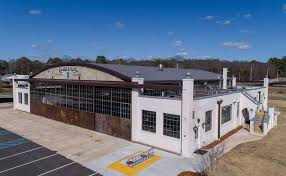 The inside of the hangar is a giant, open brewery. There's also a bar that serves beer and wine, and booth seating.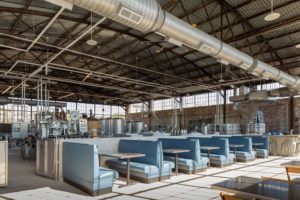 The day we were there the hangar doors were open and the wind was a little chilly, I would just recommend bringing a jacket. It seemed like the inside is probably closed off when the weather isn't nice. It is seat yourself, we had no problem finding high chairs in the back. They only offer pizza, pretzels, salads and some limited apps for food, which you order and pickup from the bar. Let me tell you though, we got a couple different pizzas and the pretzels and they were fantastic! Our kids ate everything and so did we. After eating we decided to walk around outside to the back of the hangar, and that was where the real magic was.
There was a huge field and tons of kids playing soccer, hula hooping, and basically running around like lunatics. The whole area was mostly fenced, and the unfenced parts were super visible. The best part though, there were tons of PARENTS drinking beer, hanging out, and not having to micromanage their children. Kids having a blast, parents letting loose, perfect Beers With Kids experience!!
We left and decided that there needed to be a better way to find places like this, and BeersWithKids was born.
and....