My 1 year old daughter seems to think the car is some sort of torture chamber.  Since birth she has protested consistently and loudly every time she gets even close to her car seat.  This has obviously made long car trips, (or any car trip really) PAINFUL.  I mean getting to the grocery and back can be therapy inducing.  That being said, when we get the ridiculous notion to take a long car trip with the kids, we must stop often.  We have found that it is good for everyones moral if we take nice long leisurely stops about every 2 hours.  So recently, on a crazy expedition to Savannah, we stumbled across one of the coolest beers with kids places!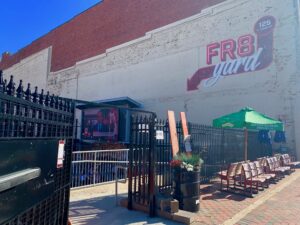 I usually try to research some potential stop locals before we begin our travels, but on this particular trip, when the baby was screaming, I just whipped out trusty google and came upon Fr8yard in Spartanburg, SC.  I wasn't sure what exactly to expect as it was described as a beer garden built in old shipping containers.   I was totally impressed.
The lower area of Fr8yard has tons of super long picnic style tables, perfect for my little red chair.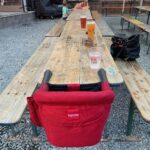 There are large umbrellas for plenty of shade and giant fans that I would assume really cool the place down on a hot day.  They weren't on when we were there because it wasn't too warm out.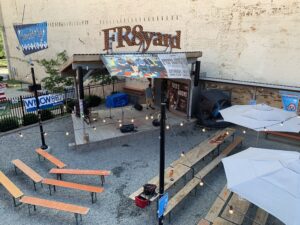 Downstairs has multiple ping pong tables, corn hole, giant blocks that could be used for Jenga or for a 3 year old boy to build tons of towers.
Also there are multiple huge TV screens for any sporting event viewing.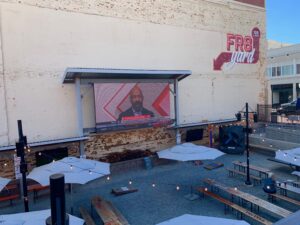 As far as good goes, the menu was a crowd pleaser for both kids and parents!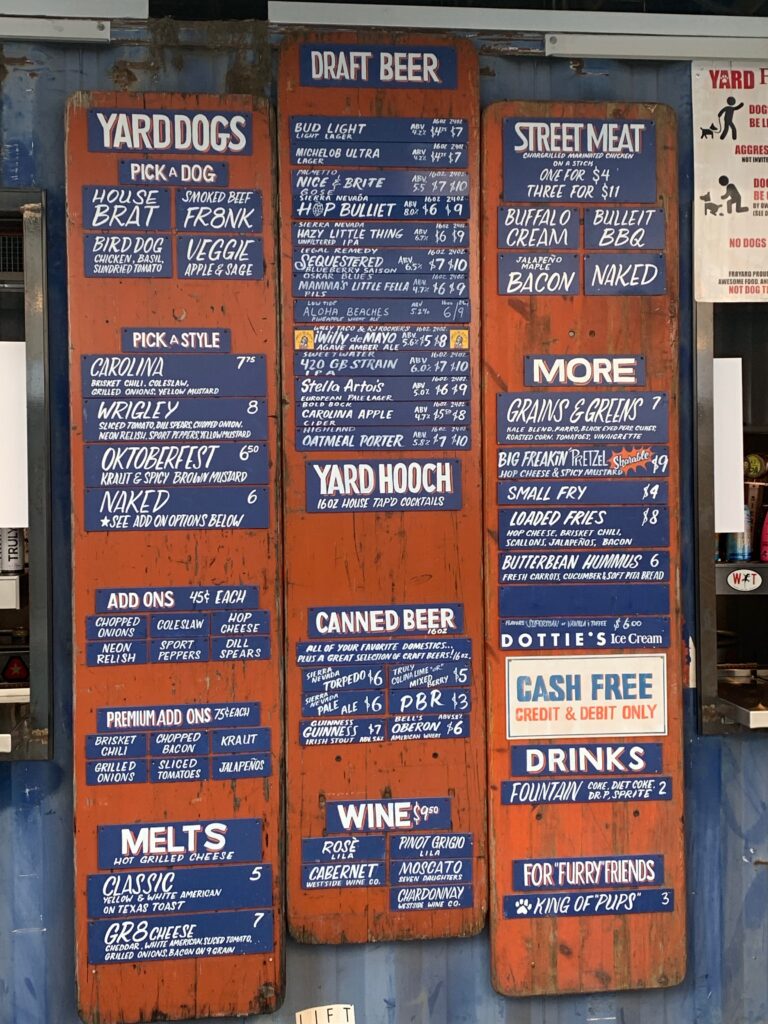 The hot dogs and brats that we tried were excellent, as well as the soft pretzel.  The French fries were these cool twisted wedge fries that I have never seen before but LOVED.  There were no complaints from anyone.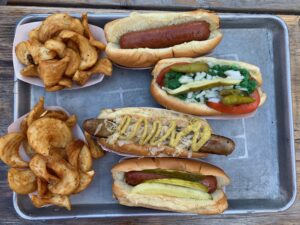 The beer options were plentiful, as well as some wine and liquor options.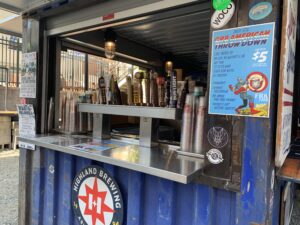 Upstairs had more seating, an extra bar that wasn't currently open and some more giant jingo sets.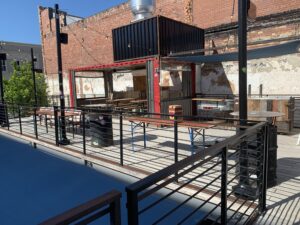 The only real drawback that kept Fr8yard from getting a perfect score was the complete and total lack of changing tables in either bathroom.  I have no problem changing my girl on an outdoor table, but I can't imagine that makes all the patrons thrilled.
Overall the food was great, the beer was great, and there was plenty of room for little people to run and play all their car energy out.  The staff were super kid friendly and there were tons of kids there on our random Thursday afternoon.  I expect that we will keep Fr8yard in mind whenever we travel through South Carolina in the future.