The Triangle area of North Carolina will always hold a special place in my heart because I lived there for several years and attended nursing school at UNC Chapel Hill.  However, my visits have been few and far between thanks to my gaggle of wild tiny humans.  But finally, thanks to a very good friend's wedding, we made the trip to the Raleigh/Durham/Chapel Hill area.  We landed at a fantastic little brewery in Durham that goes by the odd name of Ponysaurus.  I really wish I had thought to ask what that name means or where it came from, but I was so consumed by great beer and amazing snacks that I forgot….maybe another day.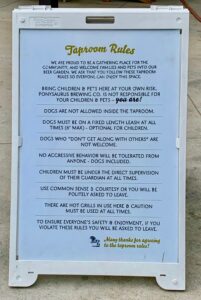 To be honest, even having lived in the area previously, I had spent next to no time in Durham.  I think I went to a baseball game or two many years ago, but that was it.  So I was excited to see what Durham had to offer!  This place mostly did not disappoint.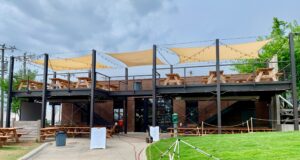 As I said, I don't know Durham well, but the Ponysaurus location seemed pretty hidden and random to me.  I could be totally wrong, but I would have struggled to stumble across it.  There's street parking and a sort of driveway leading up to the brewery.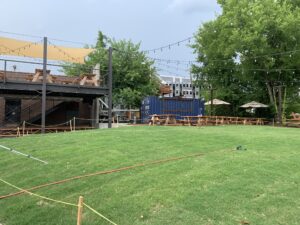 Outside is a huge grass area that is mostly fenced, except the driveway entrance.  There are picnic tables everywhere, a two floor porch and the best part…MISTERS.  Like those fantastic water misters that blow the most perfect cooling mist all over the place so you can tolerate being outside when it's 8 million degrees in the North Carolina summer. 
The outside area was a phenomenal kid containment zone.  Also, dogs were super welcome outside with water bowls and clean up bags provided.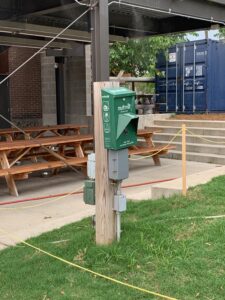 Inside there was an extensive list of in house made craft brews.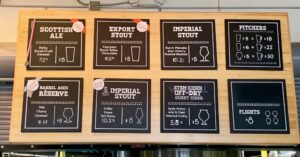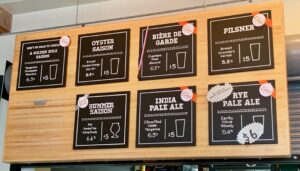 The Saisons made me exceptionally excited for sure.  For the non beer drinker there were wine options.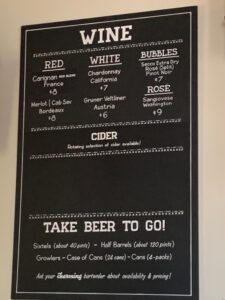 As far as food, there was an amazingly cool, unique snack mix menu that could be ordered by the scoop. 
We tried the Wasabi peanuts, the Poppin' Nut Crunch and the Bartender's Blend.  Out of the three, the Wasabi nuts were my favorite, I could have eaten a vat of them.  
Although the snack were really good and such a fun idea, there is no kitchen,  No kitchen means no real menu and no real food and let's be honest, kids are not going to be thrilled about wasabi peanuts for dinner.  This is the biggest draw back about Ponysaurus.  
Overall, Ponysaurus is an absolutely fantastic brewery with great beer and a laid back, welcoming kid friendly atmosphere.  However, don't come hungry or if you do, bring your own food.
Video not specified. Please select one to display.